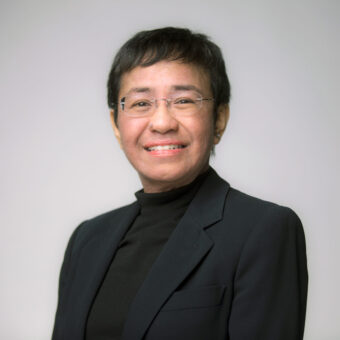 Maria Ressa, co-founder and CEO of Rappler and 2021 Nobel Peace Prize winner, became chairperson of the World Movement for Democracy Steering Committee in 2022. Rappler is the top digital news site leading the fight for press freedom in the Philippines. Maria's courage and work on disinformation and 'fake news' culminated in being awarded the 2021 Nobel Peace Prize in recognition of her "efforts to safeguard freedom of expression, which is a precondition for democracy and lasting peace."
About the
World Movement for Democracy
The World Movement for Democracy, launched in 1999, is a global network of democrats cooperating in promoting democracy. The Washington, DC-based National Endowment for Democracy serves as the World Movement Secretariat. For more information, please visit the World Movement for Democracy's website and connect on
Facebook, Twitter, and Instagram.
Washington DC, Oct. 1.– The World Movement for Democracy is pleased to welcome Maria Ressa, co-founder and CEO of Rappler and 2021 Nobel Peace Prize winner, as new chairperson of its Steering Committee. Rappler is the top digital news site leading the fight for press freedom in the Philippines. As Chair, Ressa will guide the World Movement's Steering Committee, which advises and helps mobilize a global network of civil society activists, scholars, parliamentarians, thought leaders, journalists, and funders committed to advancing democracy. Ressa succeeds Jose Ramos-Horta, a fellow Nobel Peace Prize winner who served as Chairperson for two years before being elected President of Timor Leste for the second time in March this year.
Read more ...